Web Accessibility Solution
This is a
perfect

web accessibility solution for you
We know you are on the hunt for the best digital accessibility solution for your website. This page helps you to quickly understand our web accessibility solution and find out if we are the right fit for your needs.
Get quick overview of

Accessibility

Enabler

below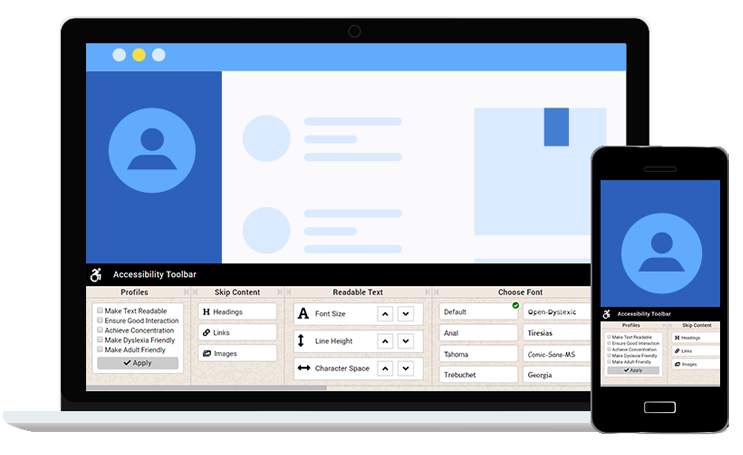 Our
accessibility solution

at a glance
Feature filled accessibility toolbar
Our accessibility widget has more than 30 options. Your users can apply multiple options together on your website. Know more
Abundant customization options
You can control the trigger position, change the trigger icon and even build a custom trigger. You can change the color of the whole accessibility toolbar. Know more
Excellently designed accessibility interface
Your visitors can immediately experience the change done to the page as the accessibility toolbar takes less than 20% of the screen both on mobile and desktop.
All kind of disabilities covered
Be it Dyslexia, mobility impaired, elderly, visually impaired, unlettered, or situational. We have covered all of them in the accessibility interface. Know more
Pricing that fits all business sizes
To serve businesses of all sizes, we have devised very flexible pricing. Whether you're a growing business or an enterprise, our pricing plan fits you. Know more
Vast array of integrations
Accessibility Enabler works on any platform. We have built a dedicated integration for many platforms to make installation easier for you. Know more
While more features and benefits of our accessibility solution continues below, you can experience them right now for free.
Start 3-day Free Trial
No card required | Select plan later
Accessibility certificate and badge
Showing that you care for accessibility is important and essential. Our free accessibility certificate and badge will help communicate your purposes to your customers.
Accessibility statement generator
Accessibility statement is a must for all websites. Using free accessibility statement generator, you can create a personalized accessibility statement for your business.
Security, privacy and performance
We have taken utmost care when it comes to security and privacy. Our monitoring system and dedicated team keep the service always up and running. Know more
Fast and friendly support team
We have a dedicated support portal and a team to help you. Except during our sleeping hours of the day, you will find us attending to queries immediately. Support center
See what our customers have to say.
This is a good app for the purpose of trying to both avoid getting sued by one of the bogus law companies and to have a basic accessibility tool for users. It's easy to use, affordable and the support has been very good.

Will Johnston
Grow and Make DIY Kits
needed to be compliant, and this was the easiest way for ADA compliance. I highly recommend this app.

John Timmerman
Dream Smart Sleep
I haven't had any issues with this app. Today, we need to be ADA compliant and this seems to get the job done. As with anything, it costs money, but why shouldn't the people who created it get paid? I have been very happy with it so far, no ads have popped up, I renew it when the time comes and don't allow my service to lapse.

Nick Pronko
Steve Pronko Jewelers
1000s of happy customers use our accessibility solution








Make your website a better place for everyone
Accessibility Enabler helps thousands of people to overcome their disability every month. Add an accessibility toolbar to your website and build a better society around yourself. Know more about accessibility plugin and accessibility solutions
Start 3-day Free Trial
No card required | Select plan later