We take utmost care of
privacy, security,

and

performance

When it comes to your user's privacy and your website's security we implement the industry's highest practices and standards. Further, we have optimized our solution for speed and performance.



Start 3-Day Free Trial

No card required | Select plan later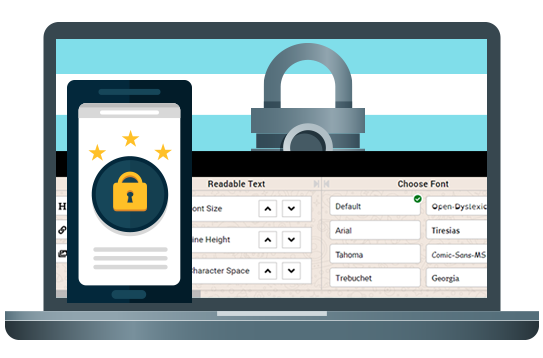 Security Practices
Software infrastructure built with the highest security measures
We use servers and services that are highly secure and trustworthy. Currently, our servers are based out of Texas ( a state in the South Central region of the United States).

We deliver our service with an SSL certificate applied. We always choose to partner with trustworthy providers who also follow similar strict security practices.
Privacy Measures
GDPR and CCPA compliant.Don't collect personal data
Accessibility enabler doesn't store any identifiable personal information of your visitors. All we save is their preferred selections in the accessibility toolbar.

Your visitors can download their preference data as JSON and can even erase their data from the toolbar. That makes us more compliant with GDRP & CCPA regulations.
Performance Standards
Optimized for good performance and maintained with consistency
We understand that performance is crucial in this digital age. Hence we make sure our servers never under perform. Our monitoring system and dedicated team keep the service always up and running.

Our developer team keeps optimizing for performance on an ongoing basis. We keep improving on all possible factors that affect performance.
1000s of happy customers use our accessibility solution








Make your website a better place for everyone
Accessibility Enabler helps thousands of people to overcome their disability every month. Add an accessibility toolbar to your website and build a better society around yourself. Know more about accessibility plugin and accessibility solutions
Start 3-day Free Trial
No card required | Select plan later