EKM accessibility plugin for your e-commerce store
Meet accessibility compliance of your e-commerce store in no time.
Start 3-Days Free Trial
No card required | Select plan later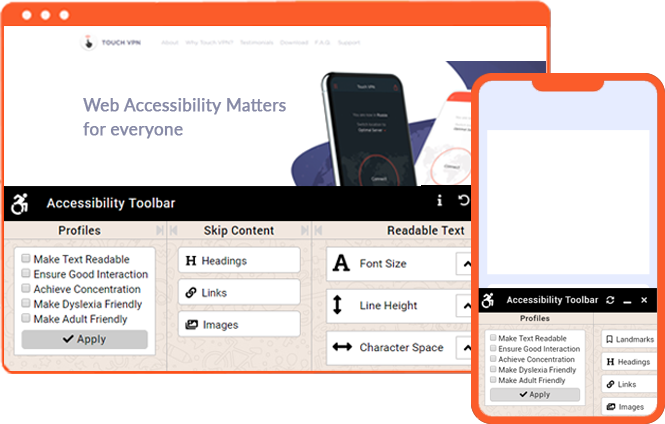 Accessibility Enabler integrates seamlessly with EKM
About EKM accessibility plugin
Once you create an account with us, our onboarding screen will guide you with the rest of the configurations and give a script to put on your EKM website. You should just copy the script and inject it into your site via UI given by the website – don't have to deal with your site code.

About EKM
EKM is an all-in-one online store builder. It is the simplest way to remove all the technical challenges of creating an e-commerce website. EKM is built for small business owners like you who want a great website to sell their products.
Our accessibility solution at a glance
Abundant customization options
You can change the color of the whole accessibility toolbar. You can control the trigger position, change the trigger icon and even build a custom trigger. Know more
Excellently designed accessibility interface
The accessibility toolbar takes less than 20% of the screen both on mobile and desktop. Hence your visitors can immediately experience the change done to the page.
Feature filled accessibility toolbar
Our accessibility interface houses 30 plus options. Your users can apply multiple options together on your website. Know more
Vast array of integrations
Accessibility Enabler integrates seamlessly on any platform. We have built a dedicated integration for many platforms to make installation easier for you. Know more
All kind of disabilities covered
Dyslexia, mobility impaired, elderly, visually impaired, unlettered, situational, and more disabilities get addressed with the Accessibility Enabler. Know more
Pricing that fits all business sizes
We have devised flexible pricing so that businesses of all sizes can adapt to our accessibility solution. Whether you're a growing business or an enterprise, our pricing plan fits you. Know more
Accessibility statement generator
Using free accessibility statement generator, you can create a personalized accessibility statement for your business. Accessibility statement is a must for all websites.
Accessibility certificate and badge
Our free accessibility certificate and badge will help communicate your care towards web accessibility to your customers. Showing that you care for accessibility is important and essential.
Fast and friendly support team
Except during our sleeping hours of the day, you will find us attending to queries immediately.We have a dedicated support portal and a team to help you. Support center
Security, privacy and performance
Our monitoring system and dedicated team keep the service always up and running. We have taken utmost care when it comes to security and privacy.
Make your website a better place for everyone
Accessibility Enabler helps thousands of people to overcome their disability every month. Add an accessibility toolbar to your website and build a better society around yourself. Know more about accessibility plugin and accessibility solutions
Try For Free