ADA & WCAG Compliance
Complete
web accessibility solution

for your website

Keep your first step towards accessibility compliance of your website. Add an accessibility toolbar to your website and make your website more accessible instantly.
Complete: Covers most of the disabilities
Easy: Requires only a single line of JavaScript code
Frictionless: Exceptional user experience on mobile and desktop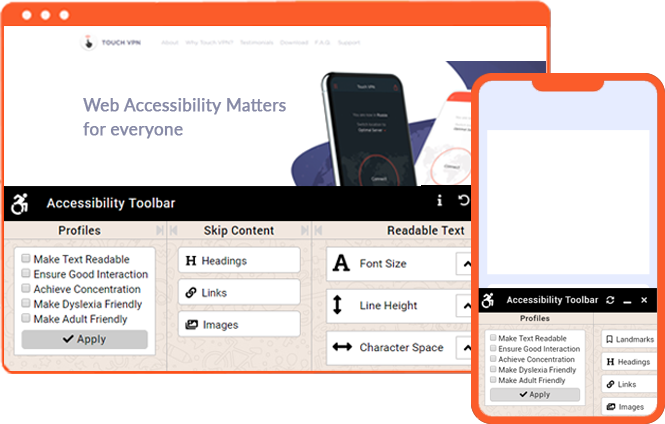 1000s of happy customers use our accessibility solution








Disabilities Covered
Accessibility for every kind of disability.

Accessibility Enabler has options to make it easy for visitors with any disabilities to use your website. It helps everyone with accommodation needs irrespective of their devices (tablet, smartphone, desktop, screen reader)





Trust With Numbers
Our web accessibility technology statistics
Following number of times we made pages accessible with our accessibility compliance solution
Sufficient accessibility options for everyone
Our accessibility widget has more than 30 options that cover most disabilities. Your users can apply multiple options at a time on your website to meet their access needs.
Make it look native on your website
Our accessibility plugin is fully customizable. You can control the trigger position, change the trigger icon, and even build a custom trigger. Finally, change the color of the whole accessibility toolbar.
Catch a glimpse of all the
features
30+ accessibility tools
Multiple languages support
Highly optimized for mobile
Accessibility preset profiles
Accessibility statement
Accessibility badge
Accessibility certificate
Color themes
Customizable trigger button
Multiple trigger position
Scroll to top floating button
GDPR ready
" This is the only app that has EVERYTHING we need "

As architects who deal with ADA regulations on a daily basis, we are committed to making our website as accessible as possible to people with special needs, in this journey we have tried several apps, this is the only app that has EVERYTHING we need, you even get the ACCESSIBILITY STATEMENT personalized for your own store, which was amazing for us.

The pricing is also very affordable and everything can be customized to fit your theme, really love the size of the icon on your page, which was one of the issues we had with a previous app, if you are looking to make your store fully accessible, look no further this is the app for you!

We highly recommend this app and are looking forward to having our store fully compliant with ADA and accessible!
Amelia Rozas, Founder & CEO , Archdekor
Integrates With Any Website
Takes less than
2-minutes

to install on any CMS or web hosting platform

Installing Accessibility Enabler on your website is as simple as installing a Google Analytics or Facebook Pixel. You just need to copy-page a single line of javascript on to your website.

View All Integrations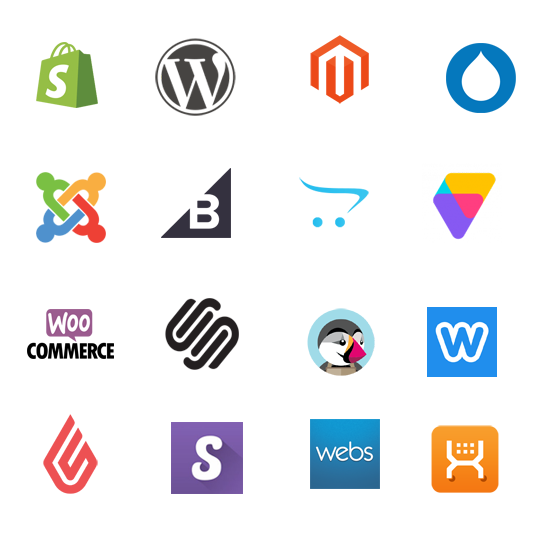 We're the
accessibility experts

you always wanted.

That was us humbly pointing out a mere fact that we hear from our clients, most often. woot!
Works perfectly. Allowed us to implement a much needed service on our site

The app work perfectly! Even when I had a problem the customer support contact me Via Skype and gave me an excellent service! A pleasure be you customer!

Great app and awesome tech support. They were able to provide me with a testing window to check the varies options of installation on my staging site.

3 most valuable
web accessibility benefits

for your business
Increase Sales
Make your sales the highest this year
Did You Know: Every website has at least 25% of its total traffic coming from people with one or more disabilities.

Today, you are losing these visitors because your website isn't best suited for them. With that, you are also losing the word of mouth that these users would have generated for your business.

Increase your sales by converting 25% more visitors into your customers.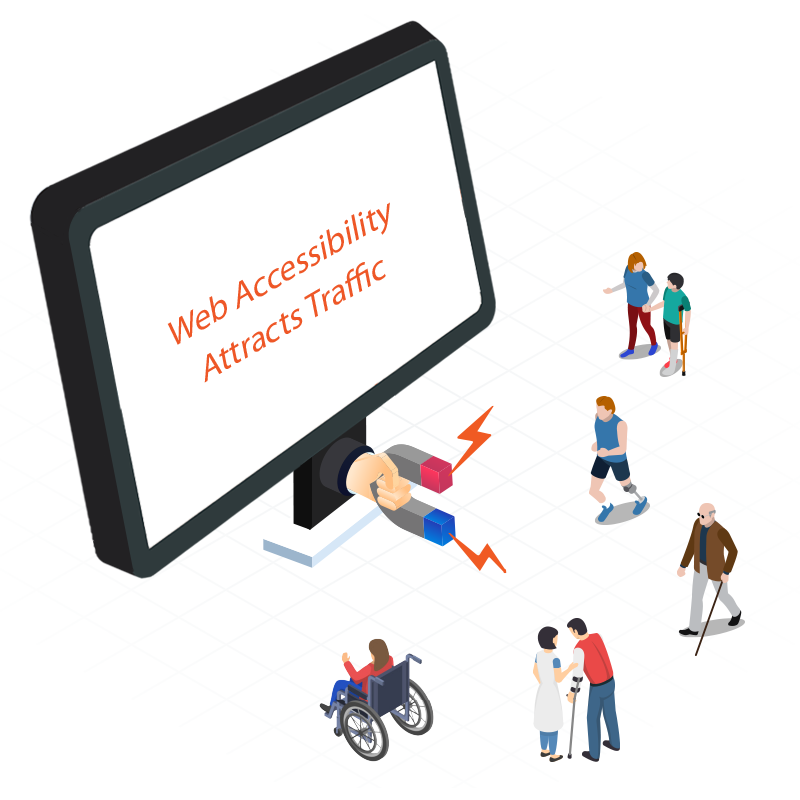 More Brand Equity
Raise your brand value and get ahead of your competition
Did You Know: Accessibility creates a positive experience with your brand and turns customers into brand advocates - researchers say.

Your customer notices everything just not for themselves but even for others. They build empathy towards your brand when they see your efforts towards accessibility. They invariably start trusting your business more and speak about your brand with their buddies.

Instantly boost your word-of-mouth marketing by making your website more accessible for everyone.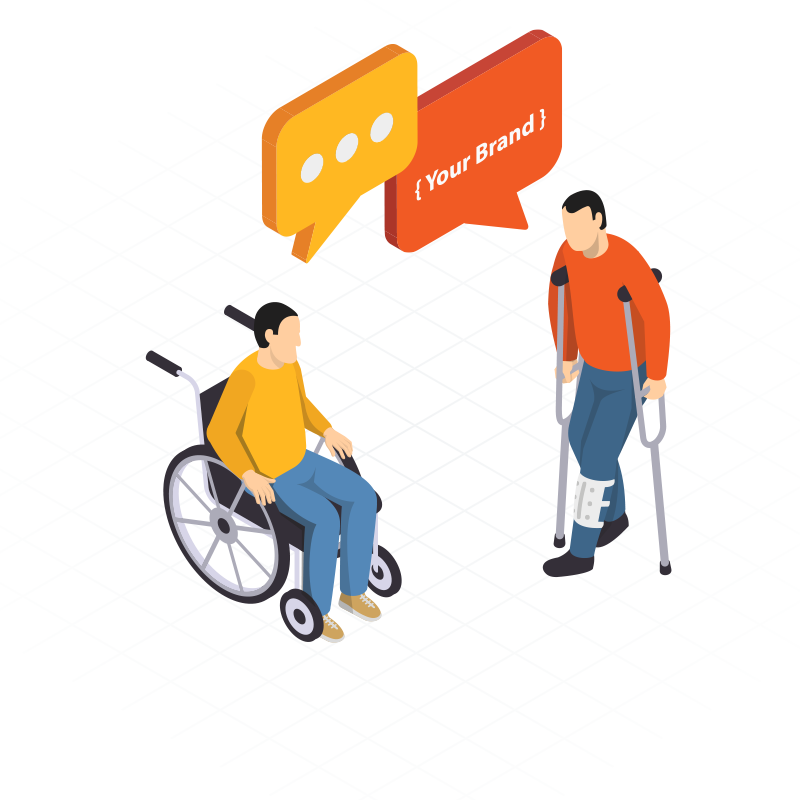 Accessibility Initiative
Make your corporate social responsibility program remarkable
Did You Know: World health organization has identified 2 billion disabled people - that's 37.5% of the world's population.

You can contribute to the lives of these people by making your website disability-friendly. You make their life easy with your accessible website. In another way, this expands the reach and impact of your corporate social responsibility program.

A barrier-free website is one of the best social responsibility that your company can pursue.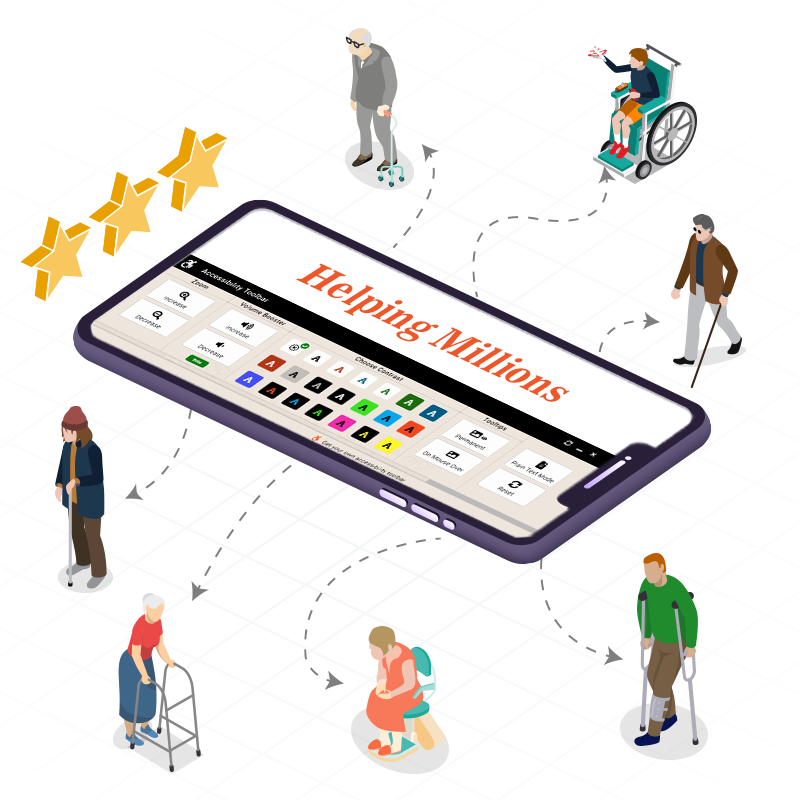 Our web accessibility solution at a glance
Learn about our digital accessibility solution in few minutes. Quickly understand features and benefits and find out if we are the right fit for your needs.
Make your website a better place for everyone
Accessibility Enabler helps thousands of people to overcome their disability every month. Add an accessibility toolbar to your website and build a better society around yourself. Know more about accessibility plugin and accessibility solutions
Start 3-day Free Trial
No card required | Select plan later